A different point of View, photography
A different point of View
by Claudia van Zuiden
Photography
Lumphanan,Aberdeenshire
Scotland
Photographer:
Claudia van Zuiden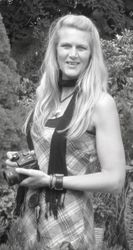 Who is she?
Claudia was born in Amsterdam,the Netherlands. She moved to Scotland 19 years ago.She works as a freelance photographer. Commercial photography, weddings and studio portraits are the recent projects she works on.Wedding and studio portraits are mainly done in black and white photography.
Education:
Claudia taught herself the facts about photography. She believes, though photography is also a form of art and it is in the eye of the photographer that great photographs are seen.These momentos can not be learned out of books. Her passion for photography was especially inspired by the late Magnum photographer Henri Cartier Bresson and by Eve Arnold.
Her Point of View:
The photography is done in way that reflects the need of the moment.A wedding should be happy, relaxed and full of joy,if that is what you want it to be in the photographs, that is what you will find in her work. Commercial photography needs emotion too, to keep the eye just that extra second longer on the photograph, that is also what sells the product.
And about photographing people; to capture the frame of the person as natural as possible,is the aim of a perfect photograph.In 1998 Claudia photographed many recumbent Stone Circles in Aberdeenshire.These were exhibited in The Milton, Crathes and the ArcheoLink,Insch, both in Scotland.
In 1999 Claudia visited Tibetan Refugee Settlements in Nepal. Her exhibitions have been shown in several places in Scotland. After this she took a break due to family commitments. She still travelled and has photographed many beautiful places and people, but mainly non-commercial. In 2009 she travelled again to Nepal and took many photographs of sacred sites. Since 2010 she has been selling some of her work again to fundraise money for a humanitarian project in Nepal and is taking bookings for commercial projects again.